Welcome to Austria
---
About Austria
Austria has been a member of the European Union since 1995, the population is 8,5 million, the capital city being Vienna (Wien). Politically, Austria is a democratic republic with the prime minister as the head of the government and parliament elections every five years. The formal head of state is the president, who has more representative duties than political power. The country is divided into nine federal states, Innsbruck is the capital of the state of the Tyrol. The language spoken in Austria is German, but most Austrians speak English and many speak some French or Italian too and are happy to be of service to visitors
About Innsbruck
Innsbruck, the capital of the Tyrol, is located in the Alpine region of Austria, in the valley of the river Inn, at 580 metres above sea level. It is surrounded by mountain ranges and numerous peaks which reach an altitude of approx. 2,700 metres above sea level. The city has 121,000 inhabitants and hosts one of the oldest universities in Europe, founded in the year 1562. Today, over 30,000 students attend the university in Innsbruck. Due to its location, Innsbruck has an excellent tourist infrastructure and is best known for its rich cultural heritage, as well as for its endless opportunities in sports and recreation that include golf, hiking, climbing, rafting, paragliding, canyoning, swimming in lakes, skiing and snowboarding not only in winter time, but also in summer at one of the glaciers nearby. Innsbruck has been the host for Olympic Winter Games twice, in 1964 and 1976. In the town, some 160 restaurants, cafes and bars, most of them in walking distance to the convention centre, offer traditional Tyrolean and Austrian specialities as well as international dishes.
Congress Venue
Congress Innsbruck
Rennweg 3
6020 Innsbruck
Congress Innsbruck is perfectly located right in the city centre, next to the Imperial gardens and the Old City with its numerous landmarks, restaurants and bars. It is a purpose-built conference centre which combines international standards with Tyrolean charm.
Travel to Innsbruck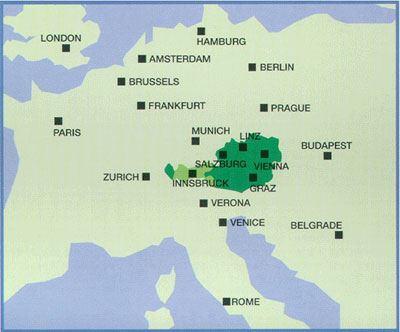 By Plane
Innsbruck has an international airport that is primarily served by Austrian Airlines or partner airlines. Several daily flights connect Innsbruck to Vienna or Frankfurt.
Additional flights are available from and to a number of European destinations.
Please check your travel agent for options or refer to www.innsbruck-airport.com.
Intercontinental travellers normally connect via Frankfurt or Vienna. As many intercontinental non-stop flights arrive in Munich, this airport may also be considered as a final destination. Transfer from Munich to Innsbruck is convenient by airport shuttle service or train (approx. 2.5 hrs transfer time) or you may rent a car in Munich and drive to Innsbruck (2 hrs drive time).
By Train
Innsbruck is connected to the dense European Inter-City railway network. Therefore, fast and convenient daily trains reach Innsbruck from all over Europe. Please check www.oebb.at for information on train schedules. The main railway station is located a 10 to 15 min walk from the Congress Innsbruck.
By Car
Innsbruck is connected to major European motorways arriving from the North (Western Europe and Germany via Munich), from the South (Italy via Verona), from the West (Switzerland via Zurich) and from the East (Hungary via Vienna). This means that Innsbruck can be reached by car within a couple of hours driving from large parts of Central, Western and Eastern Europe.
Time Zone
Innsbruck is in the Central European Time Zone (Greenwich Mean Time +1)
Currency and Credit Cards
The official currency is the Euro. Major credit cards are accepted in most hotels, shops and restaurants. Automatic teller machines (ATMs) are available throughout the city.
Language
The official language of the Congress is English. No simultaneous interpretation facilities will be provided during the conference.
Electricity
Electricity in Austria is 230 Volts, alternating at 50 cycles per second. If you travel to Austria with a device that does not accept 230 Volts at 50 Hertz, you will need a voltage converter.